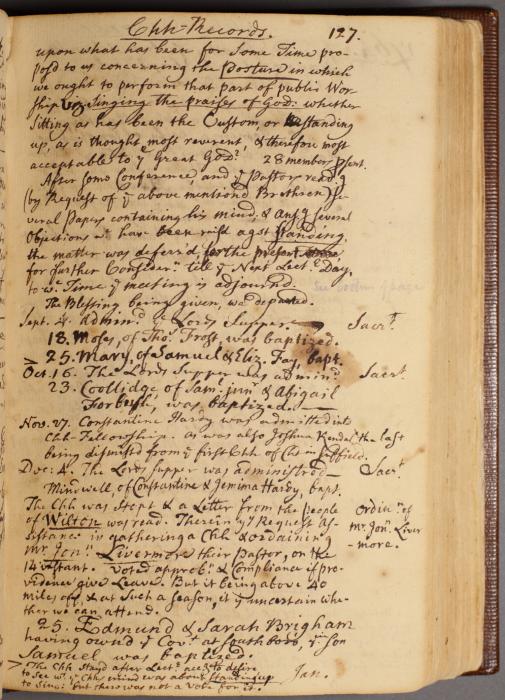 _Chh – Records.

127.

upon what has been for Some Time pro-

posd to us concerning the Posture in which

we ought to perform that part of public Wor-

ship, viz. Singing the praises of God: whether

Sitting as has been the Custom, or Re standing

up, as is thought most reverent, & therefore most

acceptable to ye great God?

28 members Psent.

After some Conference, and ye Pastors readg

(by Request of ye above mentiond Brethren) se-

veral Papers containing his mind; & ansg several

Objections wc have been raisd agst Standing,

the matter was deferr'd, for the present Time

for further Considern till ye Next LectƐ Day,

to wc Time ye meeting is adjournd.

The Blessing being given, we departed.

Sept. 4. Admind  ye Lords Supper.

Sacrt

18. Moses, of Thos Frost, was baptized.

>

25. Mary, of Samuel & Eliz. Fay, bapt.

Oct. 16. The Lords Supper was admind

Sacrt

23. Coollidge, of Saml junr & Abigail

Forbush, was baptized. ____

Nov. 27. Constantine Hardy was admitted into

Chh-Fellowship, as was also Joshua Kendal, the last

being dismissd from ye first Chh of Cht in Suffield.

Dec: 4.  The Lords Supper was administred __

Sacrt

Mindwell, of Constantine & Jemima Hardy, bapt.

The Chh was Stopt & a Letter from the people

Ordinn of

of Wilton was read.  Therein yy Request As-

Mr Jonn Liver

sistance in gathering a Chh & ordaining

-more.

Mr Jonn Livermore their Pastor, on the

14 instant.  Voted approbn & Compliance if pro-

vidence give Leave.  But it being above 40

miles off, & at Such a season, it is uncertain whe-

ther we can attend.

25. Edmund & Sarah Brigham

having ownd ye Covt at Southborò, yeir son

Samuel was baptized.

> The Chh Stayd after LectƐ accg to desire

to See wt ye Chhs mind was about Standing up

Jan.

to Sing: but there was not a Vote for it.