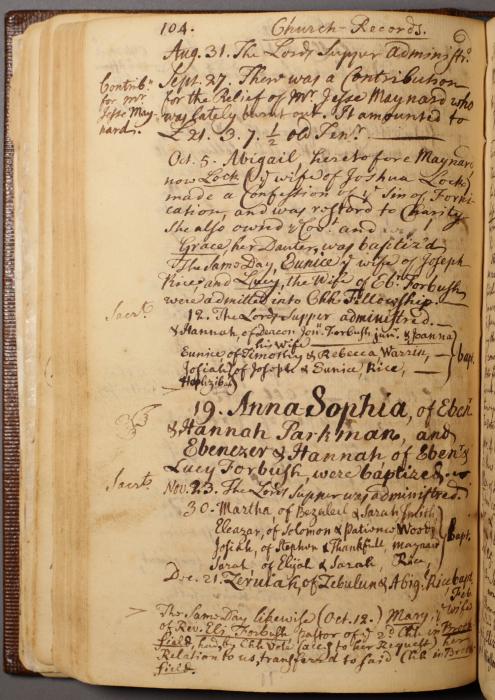 104.

_Church - Records.

Aug. 31. The Lords Supper administerd

Contribn

Sept. 27. There was a Contribution

for Mr

for the Relief of Mr Jesse Maynard who

Jesse May-

was lately burnt out. It amounted to

nard.

£21. 3. 7. ½ old Tenr _____

Oct. 5. Abigail, heretofore Maynard,

now Lock ( ye wife of Joshua Lock)

made a Confession of ye Sin of Forni-

cation, and was restord to Charity

She also ownd ye Covt and was 1

Grace, her Dauter, was baptiz'd

The Same day, Eunice ye wife of Joseph

Rice, and Lucy, the Wife of Ebr Forbush,

were admitted into Chh Fellowship. _____

Sacrt

12. The Lords Supper administred. __

& Hannah, of Deacon Jonn Forbush junr & Joanna

his Wife _______

_________

Eunice, of Timothy & Rebecca, Warrin, ___

bapt.

Josiah          of Josiah & Eunice, Rice,  ______

Hephzibah

>

19. Anna-Sophia, of Ebenr

& Hannah Parkman, and

Ebenezer & Hannah, of Ebenr &

Lucy Forbush, were baptized. __

Sacrt

Nov. 23. The Lords Supper was administred.

30. Martha, of Bezeleel & Sarah, Smith,

Eleazar, of Solomon & Patience, Woods       bapt.

Josiah, of Stephen & Thankfull, Maynard

Sarah, of Elijah & Sarah, Rice,

Dec. 21. Zeruiah, of Zebulun & Abigl Rice, bapt.

Feb.

>

The Same Day likewise (Oct. 12.) Mary, ye wife

of Rev. Eli Forbush, pastor of ye 2d Chh in Brook-

field, had, by Chh Vote (accg to her request) her

Relation to us, transferrd to said Chh in Brook-

field.