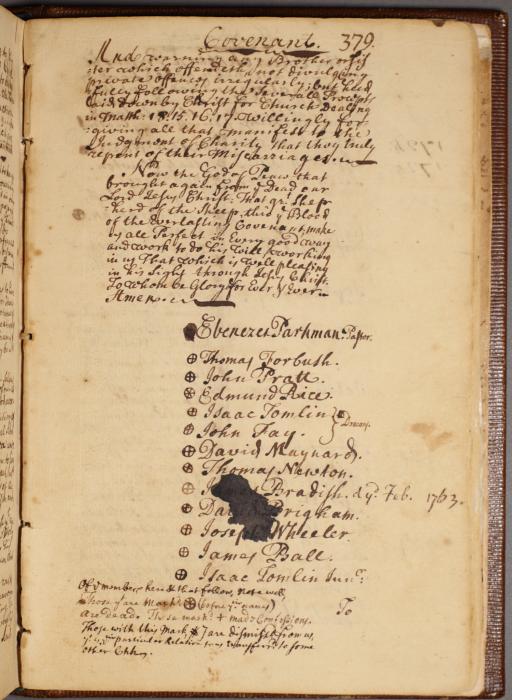 Covenant._

379.

And warning any Brother or Sis

:ter which offendeth, not divulging

private offences irregularly; but heed

:fully following the Severall Precepts

laid down by Christ for Church=Dealing

in Matth: 18.15.16.17. Willingly for

:giving all that manifest to the

Judgment of Charity that they truly

repent of their Miscarriages. ____

Now the God of Peace that

brought again from ye Dead our

Lord Jesus Christ: That grt Shep

:herd of the Sheep, this ye Blood

of the Everlasting Covenant; make

us all Perfect in Every good way

and work to do his Will, working

in us That which is Well pleasing

in his Sight through Jesus Christ.

To whom be Glory for Ever & Ever__

Amen. ___

⊕ Ebenezer Parkman. Pastor.

⊕ Thomas Forbush.

⊕ John Pratt.

⊛ Edmund Rice.

⊕ Isaac Tomlin.    Deacons.

⊕ John Fay.

⊕ David Maynard.

⊕ Thomas Newton.

⊕ James Bradish. dyd Feb. 1763.

⊕ David Brigham.

⊕ Joseph Wheeler.

⊕ James Ball.

⊕ Isaac Tomlin Junr

Of ye members here & that follow, note well,

Those yt are markd ⊛ (before yeir names)

To

are dead. Those markd  +  made Confessions.

Those with this mark, #] are dismissed from us,

yt is yeir particular Relation to us transferrd to some

other Chh.